The FIRST Dual Liquid Sprayers on the Market
and the SMARTEST way to dilute concentrates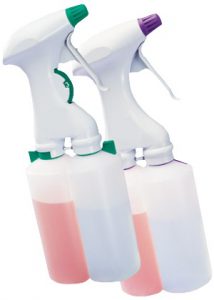 Image shown with custom colors
If you've been mixing two products by hand, or if you need a way to achieve faster, more consistent results, look no further. From concentrated cleaning solutions to two-part reactive chemistry, our patented method ensures a consistent ratio during spraying. Our products are sure to make your process easier. We say that with confidence!
Easy, Efficient, Economical
Looking for a way to implement LEAN practices and help the environment? This is it. Be it time, inventory, or transportation, DLS is the perfect way to reduce waste in the workplace. No more hand-mixing, no more closed-cap concerns. Our sprayers make safety a priority, while remaining efficient and cost-effective. And did we mention it helps reduce plastic use by up to 90%? Click here to learn more. 
Customize with YOUR colors and YOUR logo
We know how important it is to brand your product, that's why we have in-house pad printing available. Need a private label for your bottle? A bright color for the spray-head? We can help with that! 
Yes, we can also pre-fill your bottles and ship them direct to your customer.
(A few exclusions apply, please call us for more details.)