Chlorine Test Strips - How to Use

Dispense a sample of the bleach solution to be tested into a small, clean container.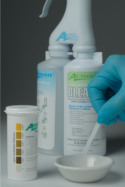 Dip the square pad at the end of the test strip into the bleach solution for one second.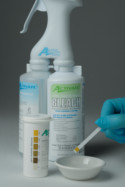 Remove it from the solution and wait 30 seconds to let the color develop.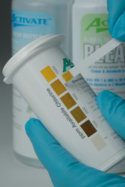 Within the next 10 seconds, evaluate the color of the pad by starting at the 10,000 ppm patch on the label chart. Carefully compare the color of the pad to the chart, evaluating the degree of yellow pigment to determine the best match. The color of the pad may not be perfectly uniform; this is normal.
DO NOT LEAVE VIALS OPEN WHILE TESTING; SNAP VIAL LID SHUT IMMEDIATELY AFTER REMOVING TEST STRIP.
On the bottom of the vial label, record the date the vial is first opened. Use the strips within 2 years of the recorded date. Always store at room temperature.